Adxstudio Portal By Microsoft
Adxstudio platform is the leading provider of web portal solutions based on
Microsoft Dynamics CRM, SharePoint, Azure and .NET platforms.
Adxstudio provide solutions to private and government organisations by providing customer experience, where customers or partners have access to the organisation's resources.
Key Solutions are:
Public Sector
Community
Retail
Partner Relationship Management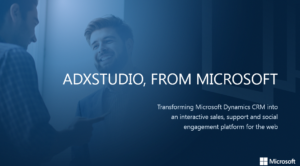 Unparrallel Expertise in Adxstudio Portals and Microsoft CRM
Adxstudio Portal solutions integrates directly into Microsoft Dynamics CRM.  Adxstudio Portals transforms Microsoft Dynamics CRM into a powerful web engagement platform and CRI8IVE JINIUS has unparalleled expertise in delivering these solutions:
Give stakeholders secure access to read and write CRM data through their PC, laptop, tablet, and mobile device browsers.
Deliver sophisticated, web-enabled applications with comprehensive back-office Microsoft Dynamics CRM integration.
Provide robust security for local, federated, and active directory as well as two-factor authentication.
Build and manage entire communities across internet, intranet and extranet networks with Adxstudio Portal's extensive profile management and self-service features.
Data captured via your Adxstudio Portal is instantly available within your CRM and can be used to trigger workflows, activities, and customize your visitor's view of information dynamically in real-time – perfect for reporting and self-service applications
Adxstudio Portals contains a complete suite of web portal capabilities that can be easily configured to fit business requirements, serving as the perfect conduit to your Microsoft Dynamics CRM.  Pre-configured starter portals conveniently combine web apps to support common use-case scenarios and individual portal apps are easily combined to meet specific needs. The Adxstudio Portals platform allows non-technical users to build their own web applications using flexible Microsoft Dynamics CRM entity form and entity list features.
Unparrallel Expertise in Adxstudio Portals and Microsoft CRM
When you choose CRI8IVE JINIUS, you'll hit the ground running.
All of the portal designs and functionalities are fine-tuned for fully responsive, standardized display on any device out-of-the-box so you won't waste development time creating or maintaining device-specific code.